Post-pandemic culture takes shape in one of the nation's hardest-hit cities
When I checked into the Portofino Hotel and Marina in Redondo Beach, I saw a sign in the lobby that said, "Stay safe, start living." That set the tone for my first trip to Los Angeles since the pandemic started.
I had previously canceled two trips — one last summer, and one over the winter holidays, due to severe upticks in cases in LA. I had posed the question to friends on Facebook, "Is it safe to visit," and my LA peeps immediately and resoundingly warned me, "Do not come."

But with the reopening of outdoor dining in March, with some trepidation, I planned a trip for spring break. I am happy to report, while things are not the way they used to be, the city is ready to welcome back visitors.
Just Masking…
Coming from our new hometown in rural Virginia, where the majority of people but not all are conscientious about mask wearing, I was a little taken aback by the militant masking in LA, even when people were riding bikes and jogging at the beach. A friend told me people are so insistent about mask wearing that when she sat in a parked car with her window down a passerby ordered her to mask up.

When I wandered a little further outside the city, to Redondo Beach, masking was a little laxer. Maskless people strolled on the beach and chatted at outdoor cafés, but all had their masks dangling from an ear or worn under their chins, just in case.

Openings and Closings
One thing I did notice that was strikingly different from the last time I visited was the number of tent cities across LA. Even in the median strips along surface streets there were tents filled with homeless people, which I had to believe were in much greater numbers due to COVID.

Of course, they were also many shuttered shops, businesses and restaurants that one year ago were open and thriving. Among the casualties was our family's old go-to Soup Plantation at the Beverly Center, the elegant date-night spot Fig & Olive on Melrose, and one of my favorite eateries to take out-of-town friends, Villa Blanca in Beverly Hills.
Also gone was the hipster Standard Hotel in Hollywood, famous for The Box art lobby installation featuring live barely clothed models. Even my old neighborhood Walgreen's had closed, and I was particularly sad to see that Joeys Gym in Robertson Boulevard, where my son and I did his first mommy and me classes, had closed its doors. They do have a Go-Fund-Me site, so hopefully they will come back when the pandemic is over.

Viva Los Angelenos
L.A. is not a city to, as Winston Churchill puts it, "Let a good crisis go to waste." New stay-at-home enterprises have popped up, such as Pineapple Express, a service that will deliver cannabis products lickety-split. Nail salons have set up mani-pedi stations on the sidewalks, and yoga classes have moved outdoors to the parks. Other inventive pivots to make up for closed theme parks were new drive-through attractions, such as the Stranger Things Drive Into Experience, held in a converted parking structure, which got decent reviews from fans. While these pop-up attractions are good place holders, there's truly no substitute for the happiest place on Earth, so tourists will be thrilled that Disneyland has opened its gates – masks and temperature checks required.
The perpetual 69-degrees-and-balmy weather in LA has many advantages over other cities, where the outdoors is almost always an option for whatever you want to do.

The plethora of parks around the LA are thankfully opened reopened, such as one of my favorite hikes, Runyon Canyon, the only place I know where you can see an assortment of shirtless, sleek physiques and designer dogs in Bjorn carriers, and hikers wearing Yves Saint Laurent fanny packs.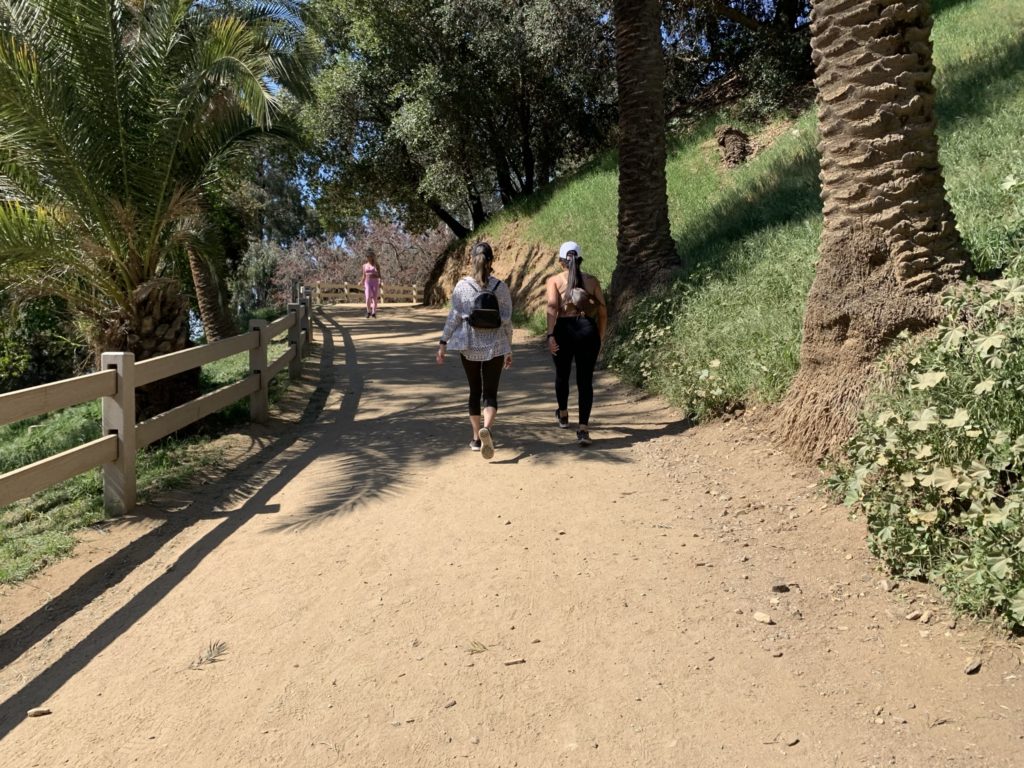 This is one of my favorite hikes, not just because of its choice of either the easy paved fire road or the challenging steep, rocky walk-climb up the hill, but also because of its vicinity to Hollywood, which draws a lot of interesting industry people. I continue to mull my idea of creating a book of haikus consisting of snippets of conversations I've heard walking the hill, such as, "What do you think of Timothee Chalamet for the lead, blah blah blah."
With nary a mask in sight at Runyon, the only sign of the current health crisis was a new sign for a "chat bench," where strangers could strike up a conversation six feet apart to combat social isolation during COVID.
A Winery Oasis in LA

While many attractions are still closed or operating on a limited capacity basis, there's still plenty to do in LA during its re-opening phase. Looking for something different to do off the crowded and beaten path, a friend and I went to the center of downtown LA and found an unexpected oasis, the historical San Antonio Winery.
This family-owned winery, in operation since 1917, is a remnant of the once thriving winery businesses that used to occupy the middle of DTLA. The current facility is used to ferment and bottle the wines and features a number of lovely gathering spaces for private events, along with a gourmet restaurant. Like many restaurants in town, the winery has expanded its seating into the parking lot, which has become so popular that the management plans on keeping the outdoor space even when COVID has been corked.
Sol or Sombra Seating

An unmistakable advantage LA has over many cities when it comes to dining is the plethora of options for outdoor seating. With a patio heaters, you can dine alfresco year-round. Many hole-in-the-wall restaurants are now getting their moment in the sun, taking over sidewalks and parking lanes, adding tables and chairs, lattices and flower boxes.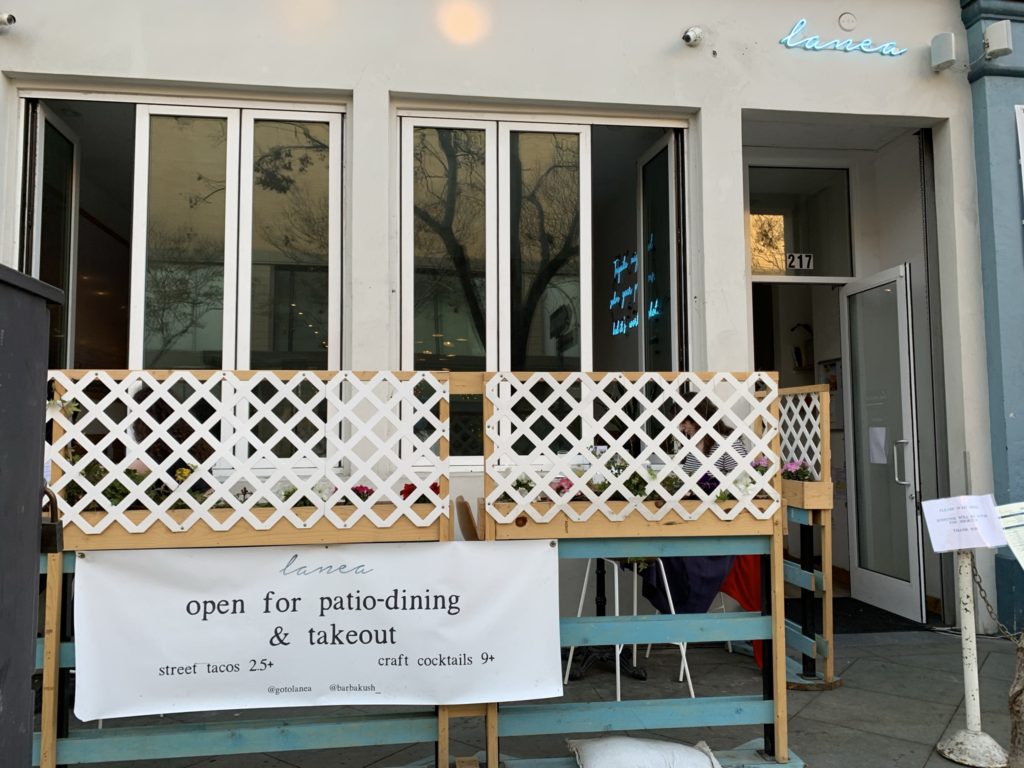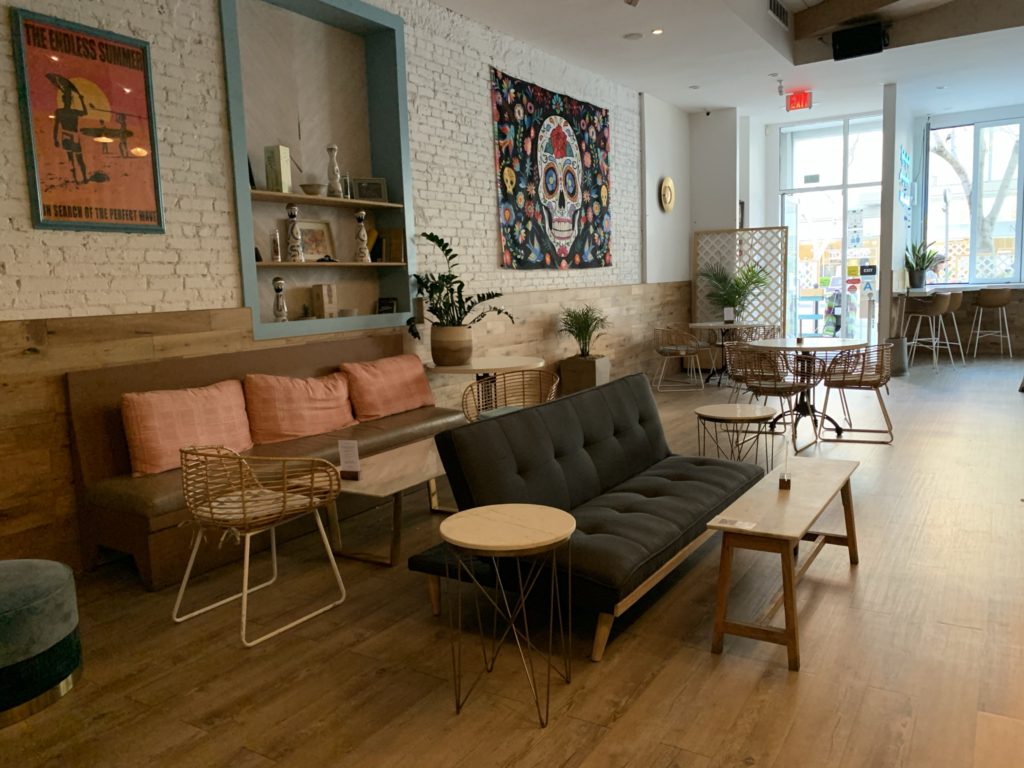 While no one can say the pandemic has been a boon to business, some restaurants have made the best of it, like Lanea in Santa Monica, voted at one of L.A.'s top 10 for outdoor dining. Previously known for their flights of delicious spicy margaritas and awesome gourmet tacos (You say Pollo I say Asada), now they are also known for their open-air seating, where people-watching — a block off of 3rd Street Promenade – is at its finest. But if even with touchless QR menus and strict masking policies, you're too timid to imbibe on the premises, they offer all of their margaritas canned and ready to go. They can also box up your favorite entrées, like their surprisingly tasty cilantro rice, and their signature guacamole, that like their cocktails, pack a kick.
Deli Delight
In Hermosa Beach, the family-owned neighborhood landmark, Mickey's Deli, is thriving with its hybrid model of delivery, take-out, or outdoor dining options – at socially distanced tables on its patio. The 53-year-old Italian deli institution is doing its part to relive social isolation with its renowned warm and friendly service, along with its hearty Italian comfort food palate pleasers.
Some of the most popular menu items are the legendary bulging breakfast burritos, beefy sandwiches like Italian Beef or Chicken Parmigiano w/ eggplant, and hot pasta dishes like Mostaccioli Deluxe, along with plenty of generously portioned salads. Besides the outstanding deli offerings, the eatery remains a destination for tourists and locals alike – especially kids – for its old-fashioned mini mart of candy, snacks and knick knacks.
Now That's Italian
An area that until the pandemic was building momentum over the past few years as a popular hotspot of eateries, Culver City, got a bit quieter, partially due to the Arclight Cinemas going dark, but the tree-lined Main Street atmosphere has proven conducive to outdoor dining.

One mainstay restaurant that is still going strong after 18 years is Ugo, which holds a special place in my heart as the very first restaurant I went out to with my newborn son, carted along in his baby seat carrier.
The restaurant is beloved by the community, and the feeling is mutual, such as was evidenced by the restaurant giving 50% off to the community during shut down, well they had to resort to carry out orders only.

Besides being a favorite industry lunch spot with executives at the nearby Sony Studios, it is also a favorite with the nearby Police Department, who I'm told favor the Conchiglie Rossi primi pasta. My own favorite is the popular Portobello Fries, a plate of lightly fried frites topped with grana padana.
The restaurant is also renowned for its Neapolitan pizza, certified by the Verace Pizza Napoletana Association to be prepared and served according to traditional standards, with a thin ingredients in the same way the first pizza was created hundreds of years ago in Naples, Italy. While the preparation may be traditional, the varieties are inventive, such as the Figo, consisting of fresh mozzarella, dry figs, goat cheese, Parmesan, arugula, and truffle honey. Lastly, the restaurant is famed for its delicious cannoli, which during a recent Carnevale of Conoli celebrated in LA was named "the best cannoli in LA.'
Life's a Beach
Of course, one of the main attractions of LA is the beaches, which after nearly a year of strict social distancing rules and even closures, except for active swimming or running (no sunbathing allowed), are open for visitors. Nearly every day of my visit to LA I loaded my bike into the back of my Lincoln Corsair and headlined for the shore, where I would ride the trail from Venice, through Santa Monica, to the end of the path at Will Rogers State Beach.
Other than most people wearing masks in crowded areas, you wouldn't know there was a pandemic. The path was packed with bikers, runners, skaters, and those pesky pedestrians on the wrong side of the trail, just like a typical summer day. Most of the souvenir shops and food vendors were open, though a few were boarded up.
One very different optic was the pop-up tent cities, especially in Venice, where campers had taken up residence for some time — furnishing their tents with mattresses and sofas. This is due to the LA City Council suspending municipal codes during the COVID-19 outbreak, so that campers did not have to take down tents and night and limits of 60 gallons of possessions per camper were not enforced. It was a sad reminder of the thousands of people who lost jobs and housing during the pandemic.
LA's New Normal
For anyone considering a trip to LA, I would not let lingering worries about COVID-19 get in the way. Because the metropolis was so hard hit by the virus, the city responded swiftly and strongly, with determination and ingenuity, finding ways to keep the city up and running, for residents and tourists. Its pandemic response has been no less that you would expect from Hollywood, and the town is now ready for its close up.