During the pandemic, there was an explosion of interest in recreational cycling, and e-bikes were a huge beneficiary of a new class of pedalers who wanted to get out into the fresh air, engage in a little physical activity, but not knock themselves out. A neighbor who bought one tried to explain to me how he still had to exert pedaling power to get it up a hill, but the electric motor gave him a boost. Until I tried it myself, I didn't understand how easy and enjoyable an e-bike could be, even for an avid mountain biker like me.
The first time I got on the Econic One Comfort Limited bike, (Retail $1,999) I appreciated the appeal of assisted peddling. I was impressed by the bike's sturdiness and the quality of the frame and components, including Shimano BR-MT201 brakes, 9sp S-Ride M300 gears, and the cushy Monte Grappa LYRA PLUS saddle. I also love that this bike has a bright built-in headlamp for riding after dark and a rear rack that can carry up to a 60-pound load.
.
While the Comfort Limited is the lightest weight of the Econic models, its heavy-duty aluminum frame weighed about 49 pounds. Despite its heft, I was delighted to experience how responsive and nimble it was. At first, I rode the bike cautiously, but once I got accustomed to the quickening of the speed with very little effort, I loved the gratifying ease of peddling while still enjoying the feeling of traditional riding.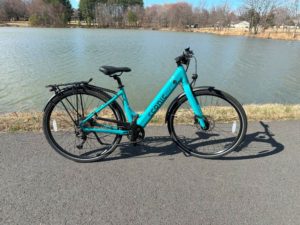 It took some adjustment to get used to the method of peddling. If you stop peddling, similar to taking your foot off the gas in a car, you coast a while but you have to pedal again to get back up to speed. It was slightly frustrating at first to have to maintain peddling motion even when I achieved the speed I wanted to maintain, but I could not simply stop peddling and coast. Otherwise, I would feel a sort of engine braking effect. So sometimes, I would pedal even though I felt no resistance, in order to keep the electronics engaged.
This bike would be perfect for someone like my mother, who is 85 and still fit and active, but she could use a little extra help in getting up a hill on a bike. Plus, the step-through frame makes it easy to mount and dismount. This bike would also be ideal for commuting long distances, where the ride would be too long and strenuous without the assistance of the e-bike features. It would be perfect for my son to ride to school so that he would get there before the late bell but not tired and covered in perspiration from the ride.
The comfort style model that I tried does not have suspension, so it could be a bumpy ride over cracks in the sidewalk or on trails that aren't perfectly smooth, so those who plan to ride off-road, I would recommend the Econic One Bandit hybrid or Econic One Adventure mountain bike which are more suitable for rough terrain.
Even though the Comfort Limited bike did not have super sporty styling, it still turned plenty of heads and is definitely in a class of higher-end e-bikes, reflected in its higher price tag than some of the lesser competitors in the market. Still, it is a solid and high-performing bike that justifies the investment.
My only issue about riding the e-bike was that it spoiled me, so now, when I get on to my manually powered mountain bike, I keep expecting the electronics to kick in; but it's all about choosing the right bike for the ride. When I want to grunt and sweat, I revert to my old-school mountain bike, but when I want to cruise and have an easy, breezy ride, it's the e-bike all the way.