Bring joy to everyone on your Christmas list with these terrific gifts
It ain't heavy, it's my blanket
Give the sleepyhead on your list a sound night of slumber with the latest trend in sleep – a weighted Tranquility blanket. This affordable weighted blanket, available at retailers such as Walmart, uses deep touch pressure to help promote calm and comfortable slumber. Available in weights from 12 lbs to 20 lbs, $49.98 to $64.97.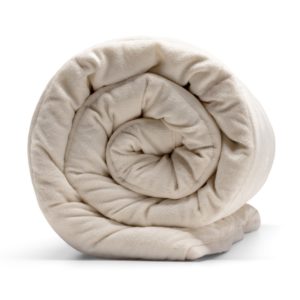 Brush up
Giving a personal care item for a gift can be tricky, especially if the recipient didn't specifically ask for that cellulite eliminator, but you can't go wrong with the BESTEK M-Care Electric Toothbrush ($49.99). This FDA-certified high-tech dental cleaning instrument features wireless charging and vibrates up to 31000 times per minute to remove gum plaque from teeth gently and fast, and it comes with a two-in-one travel case and charger.
That's the rub
There's only one thing better than a massage; a massage in your own home. Soothe, the Uber of traveling massage therapists, will send a pair of strong hands with a mobile massage table, sheets, lotions, oils and music to your doorstep in 60 minutes with the tap of an app. Indulge someone special on your gift list with a Soothe gift card, and throw in some Soothe bath salts (3-pack, $30) to make the experience complete. Fees vary based on level of therapist experience and service. Not available in all areas.
Do you hear what I hear?
Audiophiles will tune in and turn on with the Mixcder E7 active noise cancelling Bluetooth 5.0 headphones ($39.99-$59.99), featuring deep bass and a built-in microphone. Normally costing hundreds of dollars, these technologically advanced headphones charge up in minutes for three hours of playtime, delivering premium HD sound for a price that will be music to your ears. Available in Sunset Orange, Mint Green and Black.
Helmet head
Those who cycle together stick together, and now they can hear each other, with Sena's R1 Smart Cycling helmet ($129). This technologically advanced yet easy-to-use protective headgear features built-in speakers and a microphone, allowing bikers to listen and communicate on the road, up to four riders, using group intercom. Whether riding for fun or training for the big race, this helmet offers comfort and security that will put a rider at ease, and maybe even in the lead. Available in Electric Tangerine, Ice Blue and Black Onyx.
Warm home, warm heart
Make the homebody on your list feel cozier and smarter this season, with a Honeywell T9 Thermostat ($199). This sleek connected device uses Smart Room Sensors to save energy by detecting motion and adjusting HVAC settings to avoid heating and cooling vacant rooms. It can be controlled using a customizable touch screen or the Honeywell Home app, which can be programmed to learn schedules and establish geofencing, so that the temperature is just right by the time you arrive home.
Like oil and water
If au naturel is a look and feel the lady on your list favors, she will love ODE Skincare collection. With a philosophy that Olive Oil Does Everything, ODE products are infused with the green gold goodness of certified organic olive oil, full of polyphenol antioxidants and naturally-occurring squalene, blended with plant-based essential oils, fruit oils, fruit seed oils, and plant extracts, in formulas designed to cleanse, hydrate, and moisturize the face or dewy, glowing skin. The line is comprised of the Olive Water Face & Eye Cleanser ($36); Oasis Hydrating Tonic ($38); Olive & Citrus Daily Moisturizer ($54); Olive Creambalm Intensive Moisturizer ($60); and Orchard Alchemy Antioxidant Face Oil ($65).
Sock it to me
If anyone on your gift list has a fetish for performance socks with cool designs and styles, they'll love Runderwear ($15-$20) the front runner in this hot new category of sports gear. The line features a range of unisex double layer anti-blister socks that will give even the hardest core runner comfort for miles and knock their you-know-whats-off.