A jolly place to go for Christmas brunch with family, or the world's most interesting friend
When family plans for the holidays changed unexpectedly, I worried my Christmas Day would be a bust, but thanks to the most interesting friend in the world and El Torito, it was a splendid celebration. In fact, I'm thinking this could be a new tradition.
El Torito made the occasion festive with its usual bright and colorful surroundings, made more cheery with Christmas decorations, and the mood in the place was energetic and happy. Of course the generous tips the servers got that day may have had something to do with their smiley dispositions, but truly they all seemed happy to be there and their Merry Christmas greetings were genuinely heartfelt.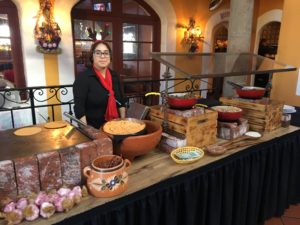 Speaking of authentic, the good was also excellent and featured many traditional Mexican and American holiday favorites. The Christmas Brunch Buffet included ham and tri-tip carving stations, made-to-order omelets, taco bar and waffle station. Hot specialty Items included soups, salads, fresh Fruit, desserts and bottomless mimosas. The cost for all of this, $24.99 (up to $35.99 at some locations) for adults and $8.99 for kids.
The brunch was offered 10 am to 3 pm, followed by the regular dining menu until 8 pm. All LA-area restaurants offered the buffet except Marina Del Rey, which served their breakfast menu and regular menu from 10 am-2 pm followed by their regular menu from until 8 pm.
While my family could not be with me, a friend came along, who, thanks to his resemblance to The Most Interesting Man in the World, got a lot of attention. Many Christmas diners in our midst got the special holiday treat of a celebrity siting, and who were we to tell them otherwise? When people would look at us, he simply raised his mimosa and said jovially, "Stay thirsty my friend."